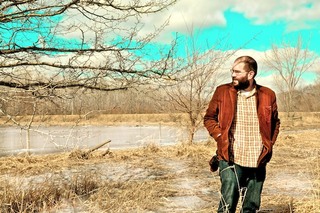 Unfortunately I arrive too late to see support band 'Munch Munch', Transport for London and Southern Rail letting me down once again. Seriously, their automated tannoy apologies are so insincere as to be almost insulting, but thats a rant for another day.
Casiotone for the Painfully Alone, aka Owen Ashworth, has for thirteen years now built himself a cult fanbase playing super lo-fi music on cheap, vintage keyboards (hence 'casiotone') and utilising plastic beats, coupled with disarmingly frank lyrics delivered in a low almost-mumble. He's decided to make this his last tour, and is retiring his moniker to work on new musical projects. So with this being considered his farewell tour, a sizeable quantity of fans have come out of the woodwork to sell out Cargo tonight.
He arrives on stage dressed in a long-sleeved red check shirt, instantly recognisable in his thick-framed glasses and bushy beard (currently a popular look among the indie circuit, a brief glance around Cargo tonight confirms this). Greeting the audience shyly, he launches into a solid forty minutes of classics, including singles 'White Corolla' and 'Young Shields', before opening the show up to the audience, essentially turning the remaining hour and a half of the show into a request session. Owen greets each shouted song title with either 'Yes', 'I'm sorry no', or 'We'll get to that one later' although he largely accepts most of the songs asked of him.
On one requested song, which he explains he didn't write the lyrics to, therefore can't actual remember them, he appeals to the audience for someone to take the stage and sing instead. Greeted by silence however, he concedes to play a few more songs first "while you all decide". Eventually a girl volunteers herself, apparently a 'veteran' of previous Casiotone... shows and ascends the stage to great encouragement from the crowd. She does herself proud, seeing the song word-for-word and note-to-note, while Owen backs her on his various vintage synths.
His initial shyness opens up to a wryly amusing stage presence, as he recounts various comedic stories to a rapt audience, including how his German tour booker ("He's German, so he's very funny'), being aware of his preference for carrot cake, put on his rider that "Owen would like some water, and a carrot cake". Being unaware of this, Owen then had to eat carrot cake every day of the tour! In fact another cake story, after an audience member enquires about a cake he ate in Glasgow, is followed by someone else from the crowd handing him a tiny tupperware box of cake! Every bit the anti-rockstar, Owen accepts the gift excitedly, but declines to eat it on stage, stating, "I don't like eating in front of lots of people".
Other tales he shares with us are more heartbreaking (although not devoid of humour), such as the story behind a song which he wrote for someone he knew who worked as an 'escort' of sorts at an airport. He would spend his work days taking people to their connecting flights and keeping them company while they waited for said flight. He spent an hour with a finnish masters student and completely fell in love with her, before having to put her on a plane and never see her again. In a bar, he was drowning his sorrows, commenting "Man, fuck minnesota, it's so cold. I'm gonna move to Finland!"
The punchlines make the stories he imparts no less touching, an effect he also achieves in his songs. A line in 'Calloused Fingers Won't Make You Strong, Edith Wong' - "You can hide in the cinema, you've got the money to spend. But the movies always end, then its your life again." in particular caught my attention, a tribute to escapism but also a grudging acceptance that real life must be returned to eventually.
Playing just the one encore, Owen leaves us with a brief explanation of his future musical endeavours, including his new project, departing on, "See you in 2012" and leaving the stage to rapturous applause. It's comforting to know that while we won't hear these particular tender, raw outpourings of emotion again, there will be more from Owen Ashworth. I'm willing to bet he won't leave his keyboards to gather dust, whatever music he makes in the future.